The 2021 Subaru Love Promise Community Commitment Award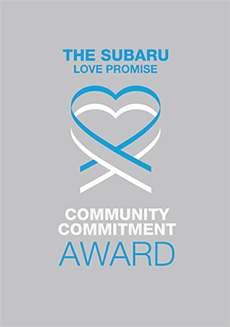 We've been nationally recognized for our dedication to our community and the Subaru Love Promise.
We're honored to receive the 2021 Subaru Love Promise Community Commitment Award. This award nationally recognizes Subaru retailers who are making the world a better place while demonstrating an outstanding commitment to supporting passions and causes in local communities. These efforts are focused in important areas such as the environment, community, health, education, and pets.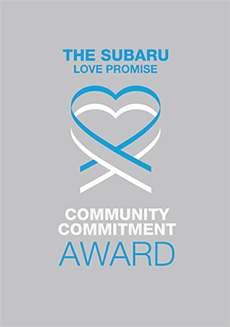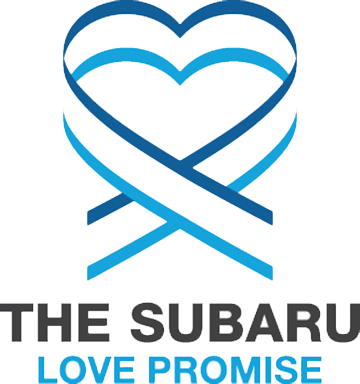 What is the Subaru Love Promise?
Subaru and our retailers believe in making the world a better place and the Subaru Love Promise is our vision of respecting all people. This is our commitment to show love and respect to our customers and to work to make a positive impact in the world.
How is Serra Subaru of Traverse City dedicated locally to the Love Promise?
Our Love Promise can be seen in various partnerships with local charities and non-profits. We're grateful for the opportunity, not only to be a part of our community, but to serve it as well.
AC PAW, Cherryland Humane Society, H.A.N.D.D.S. To The Rescue
Grand Traverse Regional Land Conservancy
Traverse City Area Public Schools, Grand Traverse Area Catholic Schools, The Children's House
Father Fred Foundation, Meals on Wheels, Women's Resource Center, Reining Liberty Ranch
Grand Traverse Pavilions, Cowell Family Cancer Center
Love Promise Stories from Serra Subaru of Traverse City
Subaru and Serra Subaru of Traverse City believe in making a positive impact on the communities in which we live and work. We uphold that belief through our Love Promise Community Commitment. Every month, we select inspiring stories from customers and partners from around our area who strive to support our collective commitment and feature them here
Serra Subaru of Traverse City Loves Learning - Eric S
Subaru and its retailers are partnering with AdoptAClassroom.org to give teachers at Traverse Heights Elementary School the funding and resources necessary to support students here in Traverse City. This year alone, Subaru will benefit more than 111,000 students nationwide and Serra Subaru of Traverse City is proud to do our part to help classrooms in our area.
---
Serra Subaru Loves Pets - Eric S
Serra Subaru of Traverse City & Cherryland Humane Society Loves Pets! Join us on Saturday, October 23, 2021 from 11:00 am – 2:00 pm at the Serra Subaru Showroom to find your forever friend at our Adopt-A-Thon. We are also filling a Subaru Outback with pet supply donations for the Cherryland Humane Society all month long. We are accepting donations in our Subaru Showroom. For a donation wish list, visit https://amzn.to/3n6tLz2 Visit www.serrasubaruoftraversecity.com for more details. We are located at 1747 S. Garfield Ave. #SubaruRetailersLovePets #SubaruLovesPets #Subaru #SerraSubaruofTraverseCity #SerraTraverseCity #CherrylandHumanSociety #MakeADogsDay
---
Serra Subaru Traverse City Loves Pets - Eric S
In an effort to support animal welfare in the community and help hardest-to-adopt shelter animals find loving homes, Serra Subaru of Traverse City supported Cherryland Humane Society by hosting an adopt-a-thon on October 24, 2020 at the Serra Subaru showroom as part of Subaru Loves Pets. Along with the adoption event, for the month of October, Serra Subaru welcomed pet donations to fill a Subaru Outback for Cherryland Humane Society. With the success of our communications plan and community outreach, we had 22 successful pet adoptions with an additional $100 per adoption to Cherryland Humane Society.
---
Spreading Christmas Joy - Douglas D
At 82 years old, Gloria lives in the home she and her husband purchased together almost 40 years ago. After her husband passed away last year, her children were concerned. They had moved out of the area; the closest one living five hours away. Where Gloria used to enjoy cooking from scratch for her family, she now finds it difficult navigating her kitchen with a walker. She tires easily and her arthritis adds an extra insult to her efforts. Was it time for her to move into an assisted living facility? The family calculated the expense while Gloria added in a sprinkle of anxiety and a dash of depression. She wasn't ready to leave her home. She just needed help receiving nutritious, daily meals. Enter the Meals on Wheels program at Benzie Senior Resources. The answer came in a blue and white 2018 Subaru named Subie-Doo. Now, Gloria receives hot meals, Monday through Friday delivered to her door by Subie-Doo and her volunteer drivers. Gloria's children know these trusted volunteers will be sure to check in on their mom and report any concerns. And every Christmas season, Subie-Doo and her volunteers venture out into the community to share the love and spread the word about Meals on Wheels. How? By collecting enough donated items to fill 200 Christmas Gift Bags delivered to homebound seniors in Benzie County. This year, Subie-Doo outdid herself! She filled up with donated food and supplies so fast at the local Shop-n-Save grocery store that the volunteers had to make several trips to collect all the donated items! At her own Share the Love Event at Serra Subaru in Traverse City, Subie-Doo donned balloons and stood proudly outside the dealership all day while countless folks stopped by to say hello, check out what this Share the Love stuff was all about and donate more items for the gift bags.
---
Serra and Subaru Love Pets - Megan O
Serra Subaru of Traverse City partnered with the Subaru of America and Cherryland Humane Society for Subaru Loves Pets month! On October 26th, Serra Subaru of Traverse City hosted an Adopt-a-Thon at the dealership to place dogs in need with a forever home and is also hosting a pet-supply drive throught the month of October. October is Subaru Loves Pets month, and it's part of the Subaru Love Promise.
---
Cowell Family Cancer Center - Kathy L
Serra Subaru. Mike McFarlan. October 24, 2019 Dear Mike, Over the last few years, on behalf of Serra Subaru's 'LOVES TO CARE' program and collaboration with the Leukemia & Lymphoma Society, the Cowell Family Cancer Center has been the recipient of about 50 beautiful blankets each year provided through the 'LOVES TO CARE" program. Cowell Family Cancer Center then distributes these blankets to new and returning cancer patients who bravely walk through our doors every day. Through eager expressions of gratitude, or quiet repose, we recognize in our patients the comfort and appreciation of a blanket's soft touch draped around shoulders, resting across a lap or cleverly folded as a pillow in a waiting room. Families often share in the delight of these gifts, gathered for a picnic or snuggled together at a sports event. These blankets serve as touching reminders to our patients they are remembered and cared for as they navigate through their treatment journey. In addition, the inspirational notes included with the blanket are heartfelt. Our healthcare team here at CFCC graciously gives thanks to Serra Subaru's and the Leukemia & Lymphoma Society's generous community giving and support that combines with our purpose of improving lives for the patients we serve every day. Kind Regards, Kathy LaRaia, MS Executive Director, Oncology Services Munson Healthcare klaraia@mhc.net
---
Serra Subaru Loves Learning - Megan O
As part of the Subaru Loves Learning Program and Serra Cares Initiative, aimed at supporting and enriching the local community through charitable donations and special events, Serra Executive Managers Jerry Zezulka and Jim Tuohy along with General Sales Manager Mike McFarlan will presented 150 books selected by the American Association for the Advancement of Science to Central Grade School 5th Grade Teacher Heather VanStratt. This donation is made possible by Subaru of America.
---
Raising Awareness for Benzie Senior Resources - Douglas D
Benzie Senior Resources (BSR) is a private, non-profit 401 (c) 3 that provide services, resources and creative, innovative leadership to make Benzie County a livable, age-friendly community that promotes senior dignity and independence. No matter their age or situation, we have professional, reliable services to help keep Benzie seniors living independently – with dignity – in their own homes.The annual Walk-A-Thon, BSR's major fundraiser, is a morning of friendship, caring and giving to support Benzie seniors. A combination of businesses, teams and individuals work together to help BSR raise funds allowing them to continue providing all services without waiting lists. In order to raise awareness, two of our outstanding volunteers, Lynn and Judy took our awarded Subie-Doo down to the Frankfort Family Fare Store and helped to sell paper shoes for HOURS and promoting our upcoming Walk-a-Thon fundraiser on August 4th! Lynn, Judy & Subie-Doo raised just under $400 that day selling paper shoes. Every dollar raised helps Benzie Senior Resources provide exceptional services, resources and trusted care to support Benzie seniors. The Benzie Community recognizes the Meals on Wheels Subaru for its sole purpose of delivering meals to those seniors in need of a hot and nutritious meal and the response from our community friends is phenomenal. A special thank you to Subaru of America, Meals on Wheels America and Frankfort's Family Fare for allowing Judy, Lynn and Subie-Doo to hang out at their store!
---
Serra Subaru Delivers Blankets - Jo B
On July 13th, Serra Subaru of Traverse City, Michigan, donated 80 warming blankets for patients to use at Cowell Family Cancer Center. Graciously receiving these blankets on behalf of Cowell Family Cancer Center was Kathy LaRaia. Blankets warm patients who are undergoing chemotherapy treatment, providing them with a cozy experience during a difficult time. Thanks to Cowell Family Cancer Center, Subaru and LLS, we are making connections that count!
---